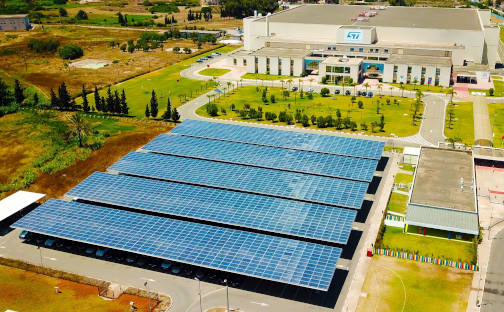 The electricity of 12 wind turbines in North Morocco will be fed into Morocco's national power grid and then purchased by ST.
These are on a 10ha wind farm near the coast at Oualidia, built by InnoVent and planned to produce 36MW by the end of this year "with annual output expected to reach more than 80GWh," said ST.
It looks like ST will be buying the farm's entire output – Electronics Weekly has asked for clarification – as "it is a shared park of two times six wind turbines," is the unusual way that InnoVent describes this site. There are 12 turbines there according windharvest.com.
In December 2019, ST Bouskoura set up a 4,000m2 solar car park (pictured) with 2,400 solar panels rated at 672kW and 250 parking places "with annual production of more than 1GWh", according to ST.
ST has been present in Bouskoura for over 20 years with a back-end plant which employs 2,800 people.
The site has developed several programs over to reduce its indirect greenhouse gas emissions – for example 1.3GWh per year will be saved by replacing conventional light bulbs by LEDs in a programme started in September 2020.
"STMicroelectronics has committed to procuring 100% of its energy needs from renewable sources by 2027, thanks to a combination of on-site solar power installations and agreements to purchase green-certified renewable energies," according to ST president of corporate social responsibility Rajita D'Souza. "The use of electricity from wind power at our Bouskoura plant in Morocco marks a major step forward for our Group and reflects a trend that will be strengthened over time and expanded to include several of our sites."
STMicroelectronics' Bouskoura plant to use 50% of renewable energy sources by 2022
With a hub height of 144 metres, one of the turbines at the Oualidia farm is, or will be, the tallest in Africa. Its 'Nabralift' self-erecting tower was built by Spanish company Nabrawind Technologies. Its turbine is rated at 3.6MW. Before this it was a 115m tower by Siemens Gamesa in South Africa. The current world tallest is a 178m tower in Germany, according to Nabrawind (whose tallest – 160m, installed in Spain – is ranked third).