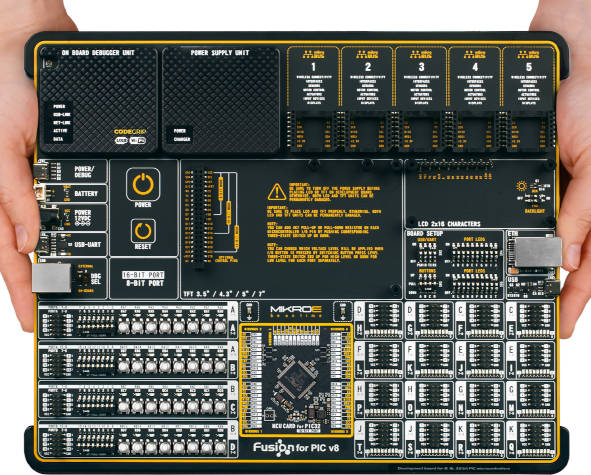 Called 'Fusion for PIC v8', it has five mikroBus 'Click' peripheral  expansion sockets (photo right) – Click is another MikroE format, there are over 1,000 to choose from.
Display board sockets allow four different sizes of TFT capacitive and resistive touch displays from the company's range to be added: 3.5in 320 x 240, 4.3in 480 x 272, 5in 800 x 480 or 7in 800 x 480. OLED and e-Ink types are in the pipeline.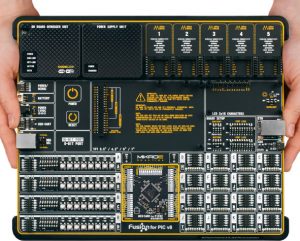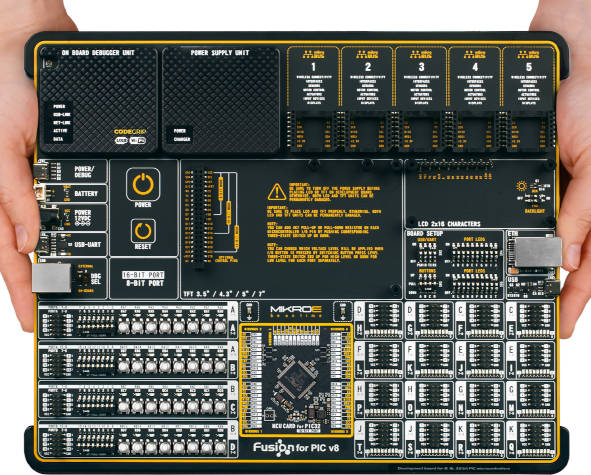 "Fusion boards integrate CodeGrip, the tool that facilitates debugging over Wi-Fi," according to the company. "The on-board USB-C debugger and programmer currently supports more than 1,640 microcontrollers, and enables development in hazardous environments, or remote and inaccessible sites."
The CodeGrip Wi-Fi licence is a pay-for extra, as is the CodeGrip Secure Socket Layer (SSL) security.
A power supply module is included (top left in the photo left), and an uninterruptable PSU can be installed.
"The power supply module supports programmable voltage output which can be used as a reference for various purposes, including A to D or D to A converters, comparators, and any other peripherals that require or can use an external reference voltage. The programmable voltage output can be controlled over the CODEGRIP Suite," said MikroE.
Roughly the footprint of a net book, the board is 3.2mm thick to minimise flex, and has flip-out feet on the upper edge to tilt it like a keyboard.
The Fusion for PIC v8 product page is here