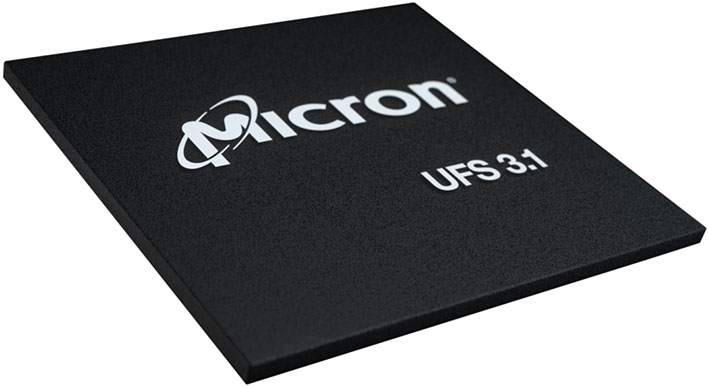 Micron has begun volume shipments of  a 176-layer NAND UF 3.1 mobile memory in 128GB. 256GB and 512GB densities,
Engineered for high-end and flagship phones, Micron's discrete UFS 3.1 mobile NAND unlocks 5G's potential with up to 75% faster sequential write and random read performance than prior generations, enabling downloads of two-hour 4K movies in as little as 9.6 seconds. 

The chip provides 15% faster mixed workload performance than its prior generation, enabling faster app launching and switching across multiple apps for a smoother mobile experience.
Without storage as a bottleneck, users can take advantage of 5G's speeds with the powerful combination of UFS 3.1 and Micron's 176-layer NAND. 
The chip brings 75% faster sequential write and 70% faster random read performance over previous generations. 
Its up to 1,500 MB/s sequential write performance translates to an ability to download a 10-minute 4K (2,160 pixel) YouTube video stream in 0.7 seconds3 or a two-hour 4K movie in 9.6 seconds. 
As compared to its predecessor, the chip about 10% shorter latency for faster response times and a more reliable mobile experience. 
It has up to two times the improved total bytes written versus its previous-generation product, meaning twice the total data can be stored without degrading device reliability.