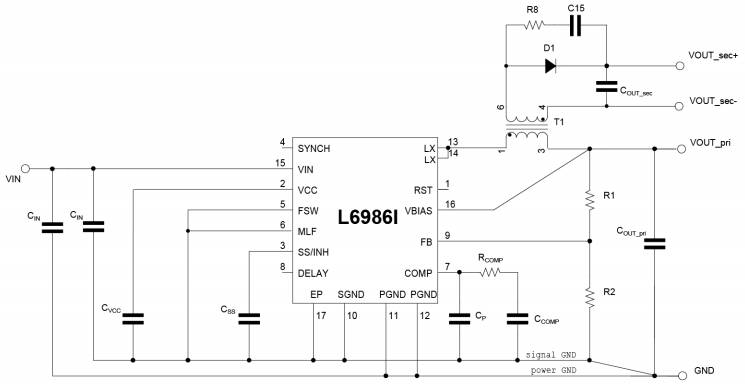 "Common uses include powering gate drivers for SiC mosfets and IGBTs that require asymmetrical isolated power rails, and powering isolated interfaces such as RS-232, I2C and SPI.
The industrial part is called L6986I, or A6986I for the AEC-Q100 Grade 1 qualified automotive version. Packaging for both is  thermally enhanced HTSSOP-16.
"Typical applications for the A6986I include on-board chargers and electric traction drives," according to the company. "The 100% duty-cycle capability and input range from 4V to 38V, meet the cold-crank and load-dump specifications for automotive systems. The industrial-grade L6986I is ideal in motor drives, solar power-conditioning systems, uninterruptible power supplies and welders."
The 100% comment cannot apply to the isolated output, which ST calls the 'secondary' output. According to the data sheet: " A general recommendation is to keep the duty-cycle below 50-60%. A higher duty cycle would limit off time, limiting the time in which the energy transfer to the secondary side takes place."
The converters operate in forced-PWM mode with peak-current-mode control to regulate the primary output voltage. "An extended negative current limit on the primary side gives extra flexibility to ensure suitable secondary current using a typical transformer coil ratio," said ST.
Soft-start is programmable and pulse-by-pulse current sensing gives constant-current protection in the primary side – a  300ns current-sense blanking time filters oscillations generated by the transformer leakage inductance for better stability during high-side switching transitions.
Over-voltage and thermal shutdown protection are built in and there are external pins for synchronisation and setting the switching frequency.
Evaluation boards are available:
STEVAL-A6986IV1 produces 18V and -4.5V isolated outputs
STEVAL-A6986IV2 has a single 5V isolated output
Both are adjustable using external components.
Product pages: